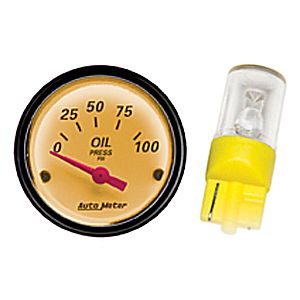 Product Details:
Led Replacement Bulb Kit Amber

LED Replacement Bulb Kit - Amber

Product # 3287
For all Auto Meter gauges (except clocks, A/F ratio, & Autogage), speedometers, and most in-dash tachometers. Does not work with Digital & LED Lit gauges (i.e. Cobalt, C2, NV, Phantom II, Sport-Comp II, Ultra-Lite II).

Upgrade your standard instrument lighting with intense LEDs. Replaces 161, 193, 194 & 168 style wedge base bulbs only.

Product not shown to scale. Gauge shown for reference only and not included with LED kit.