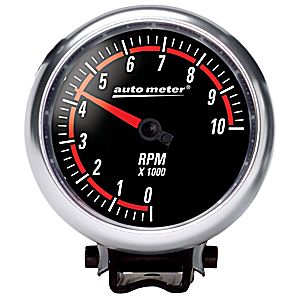 Product Details:
3-3/4" Tach, 10,000 Rpm, Nexus

Tachometer Mini-Monster

Product # 6499
Size: 3 3/8" (85.7mm)
Type: Pedestal Mount Tachs
Range: 10000RPM

Notes:
Operates on 4, 6, or 8 cylinder engines with points, electronic, and most 12V high performance racing ignitions.
Air-Core meter movement.
Includes 8 ft. tubing or wiring harness.
Requires purchase of Sensor Module, Model #6400 or #6401.
Seven color LED lighting.