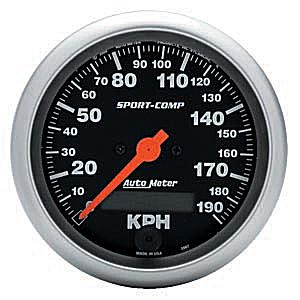 Product Details:
3-3/8" Speedo, 190 Kph, Elec, Sport-Comp

Speedometer Electronic Programmable Metric

Product # 3987-M
Size: 3 3/8" (85.7mm)
Type: In-Dash Tachs & Speedos
Range: 190 KPH

Notes:
Resettable Trip odometer.
Will work with most factory sensors. If sender may be required, see model 5291 or 5292 in Accessories Section.