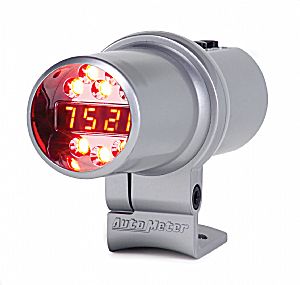 Product Details:
Digital Pro-Shift System Slv Tube 5 Stage/Playbk

Silver DPSS Tube, Level 3

Product # 5351
Tube-style shift light, w/ innovative AIM swivel mount. Features 5 programmable shift points including Launch Lite, progressive shift, playback, digital RPM display, compatible with .5-6 pulse ignition signals (4-12 cyl engines), and 7 color shift light.

This product features 90 seconds of engine RPM playback memory. Replay using the digital display or connect to a standard Auto Meter tachometer to playback engine RPM on the tachometer dial.