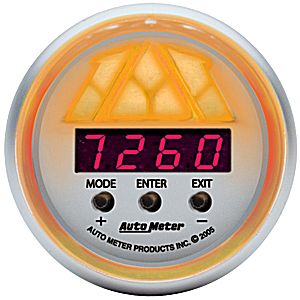 Product Details:
2-1/16" Dig. Pro-Shift, 5 Stg/Pb, Ultra-Lite

Digital Pro Shift System Shift Light, Level 3

Product # 4389
Size: 2 1/16" (52.4mm)
Type: Digital
Range: 0-15k RPM (.5 - 6 Pulse Ignitions)

Notes:
Four-Stage Shift-Lite.
Seven color LED lighting.
Operates on most 4, 6, 8, 10, & 12 cylinder engines with points, electronic, DIS and most 12V high performance racing ignitions.
Peak recall/memory
Launch Lite Feature for precise launch RPM with minimal driver distraction.
Progressive Shift Light Technology warns of approaching shift and over rev.
Engine RPM Playback Memory 80secs. Connect to standard tachometer for full dial playback.