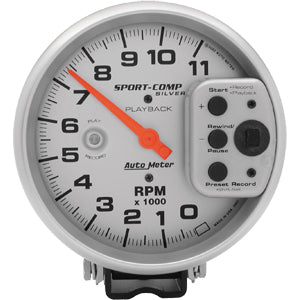 Product Details:
5" Tach, 11,000 Rpm, Playback, Silver

Tachometer Playback/Sport-Comp

Product # 3965
Size: 5" (127mm)
Type: Pedestal Mount Tachs
Range: 11000 RPM

Notes:
Operates on 4, 6, or 8 cylinder engines with points, electronic, and most 12V high performance racing ignitions.
Playback Tachometer - See the Data Acquisition section for more information.
Four-Stage Shift-Lite.
Shift-Lite is optional.