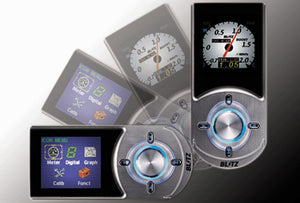 Blitzoffers boost control function (SBC i-D) and power meter function (POWER METER i-D)in one body . This is New Blitz SBC i-Color. *Outstanding visibility on 65,000full color & full dot LCD screen, which will be MUST item for the latesthigh performance cars.

*Multi-angle function enables the LCD display to be switched to 3 differentdirections (right, left or stand up mode), so the unit can be installed on anyplaces. (Each button function on the unit is also altered automatically to suiteach direction of the unit.)

*Sequential twin solenoid valve unit offers super quick and accurate responsefor boost control.

*Unit has the function of BLITZ POWER METER i-D, so it can measure engine power& torque and show them on the color screen.

*The color monitor can show 12 kinds of data, which are BOOST, TACHO, SPEED,POWER, TEMPERATURE (water/oil), OIL PRESSURE, FUEL PRESSURE, AIR/FUEL ratio andExternal Voltage Input 1-3 (needs optional external voltage input harness).Maximum 6 kinds of data can be shown on the screen at the same time. (Pleasenote that temperature sensors, pressure sensors, and A/F unit are optionalitems.)

*Data logger function enables POWER, TORQUE, BOOST, A/F readings to be shown asgraphical display on the color screen
Part# 15061