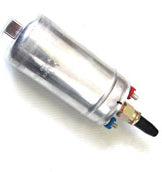 The Bosch 044 fuel pump provides 300LPH of flow and operates at an amazing 72.5PSI.
Bosch 044 fuel pumps can support vehicles for up to 600-700
horse power.
Can be used in sequence with an intank Walbro fuel pump or Bosch 040 fuel pump.
M18x1.5 inlet, M12x1.5 outlet
TECH TIP:
This universal fuel pump is not a factory replacement and will require a custom installation.
Fits:
Universal Fitment