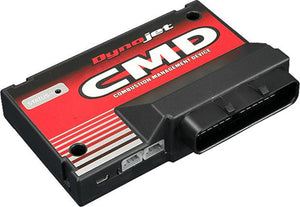 The Dynojet CMD (Combustion Management Device) is designed to optimize the power of your Hyundai Genesis Coupe 2.0T, while retaining the factory engine management system.
The CMD is loaded with features that allow the user to precisely alter the fuel, boost, and works in parallel with OBDII (including CAN-Bus systems).
Designed to be "plug-n-play" right out of the box*, the CMD comes pre-wired with OEM style connectors for the 2010+ Hyundai Genesis 2.0T, eliminating lengthy installation times and guesswork.
Dynojet CMD Genesis 2.0T Engine Management System Features:
- Direct injector control (+/- 100% fuel change)
- Fuel change based on MAP sensor
- Boost / Fuel cut defense (through TIP / MAP clamping)
- Boost Control (+/- 100% change)
- Plug-n-Play Harness with OEM style intercept connectors, no cutting or splicing is required
- Update firmware via USB, no need to return the CMD for updates
- Control Center Software™ allows for unlimited map possibilities and real time tuning (base map included)
- Up to 48x48 tables dimensions allows for fine tuning and precise control
-Works in parallel with OBDII vehicles, even CAN-Bus systems
- CMD can draw power through the PC USB port, enabling map changes with the ignition off, or remove the CMD from the vehicle and bench program
- CAN-Bus communication and expansion options yields lightning fast communication speed with the Wide Band 2, LCD Display, and other Dynojet products
TECH TIP:
Direct bolt on, no other mods needed! Includes plug & play harness for an easy installation.
Fits:
Hyundai Genesis Turbo Coupe 2.0T