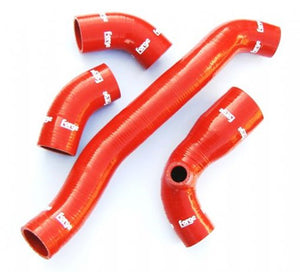 Forge Motorsports silicon hoses are extremely durable and hand made for best fitment,
flow, and strength. The stronger hoses will prevent boost expansion of the weak OEM hoses.
The 3 ply hose comes in a 4 piece kit for all your turbo
hose parts.
The kit is available in blue, red, and black. Each hose has the Forge logo on it.
TECH TIP:
Direct bolt on, no other mods needed!
Fits:
Hyundai Genesis Turbo Coupe 2.0T