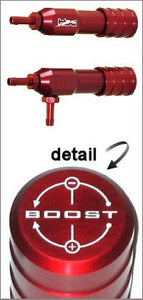 The brand new Hallman Pro Kit contains the newly designed Hallman Pro valve, the new standard by which manual boost controllers will be measured. It is machined of billet aluminum and stainless steel pieces, and incorporates new features not currently available on any other manual boost controller.
No lock nut is utilized, and no tools are used to adjust your boost. Simply turn the adjustment knob and it stays put. The adjustment knob cannot be lost or come out of the valve (that means perfect protection from overboosting due to adjustment knob loss - it cannot vibrate loose and come out).
The Pro Kit includes the new Hallman Pro valve, 3 feet of vacuum line, mounting bracket, hardware packet, and complete installation instructions. This kit has all the installation hardware that is needed for most all turbo installs. Plus, it comes with a mounting clamp to hold the valve.