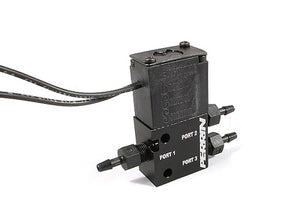 Factory boost control management relies solely on a flimsy, inefficient actuator. When boost levels are increased over stock, by the use of aftermarket ECU's, these factory actuators fail to properly meter boost. The resulting spikes, dips and erratic response can not only damage your engine but certainly spoil the performance gains. Enter the PERRIN EBCS!



Constructed from billet aluminum and fiberglass reinforced composites the EBCS, is a true solenoid. It is rated to hold boost pressures in excess of 100 psi and thus far more than any gasoline turbocharged engine will ever see. This product is especially helpful for tuners that have otherwise not been able to utilize boost functions found in many aftermarket reflashes and ECU's. Avoids the cost and additional tuning of standalone electronic boost controllers.
Available for most factory turbocharged applications as well as a replacement for many aftermarket boost controllers.
Fits: Subaru STi