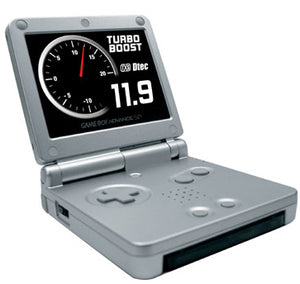 The DTEC-BC-PRO is quite simply THE BEST boost controller ever made. It turns your Gameboy Advance SP into a powerful Electronic Boost Controller cabable of controlling boost pressures in excess of 60psi. The DTEC-BC-PRO allows everything from simple "one number" boost control that can be set up in minutes to the most advanced closed loop, gear dependant, RPM, and throttle position based programmable boost controller ever conceived. It comes standard with 60+psi cabaple inline boost control solenoid; 45psi MAP sensor; KnockLite detonation detector and more.

Advanced features include the ability to store and switch between five (5) different boost maps; scramble mode; overboost protection; "start boost" feature to speed turbo spool up; and gain control. You even have the option of adding a second solenoid (sold separately) to completely control pressure to both the top and bottom of you external wastegate for the ULTIMATE in high boost control. These are features you will not find in the $680 Greddy E01; the $655 Blitz SBC-id; the $629 Apexi AVC-R; or even the $725 HKS EVC V.

TECH TIP: The Gameboy Advance SP is not included. While it is required to set up the boost controller you do not have to leave it plugged into the DTEC-BC-Pro.
Part # DTEC-BC-PRO