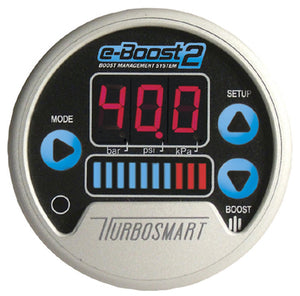 e-Boost2 puts the user in total control of his/herturbocharger. With a host of new features and state-of-the-art software, e-Boost2is the one accessory all owners of turbocharged cars should have! Easy to use,yet sophisticated and technologically advanced, the e-Boost2 isequally at home in a street-going vehicle as it is in a top-level racecar.
It's a tacho!
e-Boost2
displays RPM with a much greater accuracy than thecommon analogue tachometer!
It's a boost gauge!
With high accuracy boost and vacuum display,
e-Boost2
outperforms most analogue boost gauges!
It's a shift light!
With an optional single or double LED ring,
e-Boost2
controlsup to 2 warning/shift lights!
It's a NOS swtich!
With a fully programmable auxiliary output
e-Boost2
gives youcontrol over water spray, methanol or nitrous injection!
It's a mother of all Boost Controllers!
Up to 6 alternate boost mapping functions with specific boost mapping for FWD, RWD, AWD, Bike and Drag racing applications.
A specifically developed Correction Feature eliminates boost drop-off at high RPM
Boost levels can now be mapped against TIME or RPM
Special gate pressure function eliminates wastegate creep
Peak Hold/Max Boost Recall function monitors the boost and RPM
The display can be configured to KPA, Bar or PSI
Features
Choice of bezel/face colour combinations
Back-lit, easy to access function buttons
Auto dimming
Programmable audible warning alarm
Advanced short circuit protection
Suitable for panel, gauge pod or pillar mounting
Easy to read, 7-segment display with bar graph
Housing and accessories made out of tough, billet aluminium
Accessories (sold separate)
Single or double LED ring. Available in bezel-matching colours
Shift/warning lights complete with a plug-in wiring loom, available in four colours (Red, Green, Amber, Blue)
Remote-mount shift light
Dash mounting kit. Tough and sturdy with tilt and directional adjustment